Last Christmas, my wife and a friend went to a class and learned how to make a Gingerbread House. This article describes the cutout sizes needed to make a Gingerbread House.
There are lots of recipes for making Gingerbread, so that is not covered here. What is described is exactly what shapes to cut to make a nice looking Gingerbread House. The dimensions used give a reasonable size house, but you can scale them as necessary to suit your purposes.
Six pieces are needed, two of each shape. The sides are simple rectangles 4cm by 8cm (1.6 by 3.2 inches). The front (and back) is a standard house shape (ie, a rectangle with an isosceles triangle on top of it). The base is 9cm (3.6 inches), the short side height is 4cm (1.6 inches) and the total height to the point is 11cm (4.4 inches). The top pieces are simple rectangles 10cm x 9cm (4 x 3.6 inches).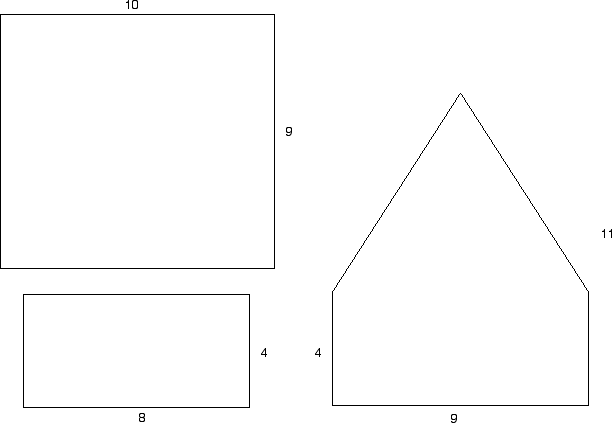 You can copy the image and print it out, perhaps scaling it as desired. Remember that you need two of each. The roof is designed to be oversize to give the appropriate Gingerbread House look.
Obviously, it is left as an exercise to decorate the house. Perhaps cut out doors or windows, use candy icing or candy canes or small candies to decorate the house.
As a simple project to entertain the kids, you can also use the diagram to build a house out of paper or cardboard. Print two copies out, add some "tabs" to the left and right side of the side pieces, glue the paper to some light cardboard and cut out the shapes. Tape or glue the side tabs to the front/back pieces, and tape the two roof pieces together, folded at the join, and drop it over the house, possibly taping to the side pieces from the inside.
If you make a house (paper or Gingerbread) using this diagram, please let me know and perhaps send me a picture to include on this page. Unfortunately, I didn't take a picture of Nikola's Gingerbread House - perhaps next Christmas.